Corporate and Convention Favor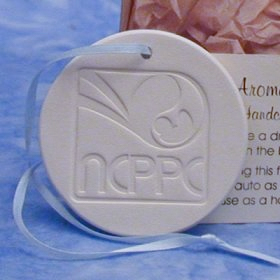 As low as $2.75, unpersonalized.
Personalization @ 25¢ each.
Gift boxes, personalized card and vial of aroma therapy oil included free!
Colors can be matched to that which your company uses.
Ribbons are a little harder to match but we can usually come very close.
Instead of a ribbon for the ornaments we can substitute rawhide, twine or other such material.
The shape of the favor can be tailored to your design.
We can duplicate your corporate logo and use your text choice.
In some cases we have been able to find an alternate color for the wind chime string.
A romance card with your particular information can be included no additional cost.
Our corporate favors help you stand out in the crowd of every day cheap imported offerings If your company is looking for a distinctive thank you gift we can tailor our ornaments or wind chimes to your exacting needs. The method by which we personalize our favors allows us to duplicate almost any artwork, logo or slogan. We personalize the chimes with the company logo on the top and we color the chime in a special combination of colors to match the company art work. We ship the corporate favors in gift boxes ready for distribution. We are happy to work with you to meet your special needs with respect to shape, design or color. Some of the uses of the favor are Christmas or special occasion gifts for employees and customers, hand outs at conventions, special thank you for vendors and more. Pick us when you want to make a lasting impression. Use them as calling cards for your special accounts. Many of our corporate ornaments have room to list your company name and phone number and even a web address. We can also include a romance card of a size and color that suites your needs which allows us to convey a text message.