Wedding Favors Made in USA
We use nearly 100% domestic materials for our USA made wedding favors.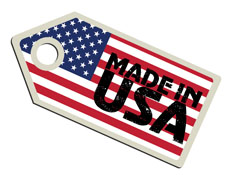 We know there are many fine products made by many legitimate companies world wide. On the other hand there are some companies selling cheap shoddy, imported products. Products coming from who knows where. Some companies even represent these goods as being hand crafted in USA.
USA made wedding favors are the back bone of our decorative arts.
The same philosophy applies to all our items. Includint wild bird feeders, houses and wind chimes and bells. As owners and artists, we pay close attention to construction detail. We also pay attention to the origin of our materials. We try to use only those made in the USA. For example, the mono filament line we use to string the wind chimes comes from Mexico. Everything else comes from the US. We simply have not found a domestic manufacture for the mono filament. If we could find a US supplier we would buy there. All our packing and shipping materials are produced in the US. And most of it is from recycled material.
The individual gift boxes and cardboard boxes are all made in the United States. The tissue is recycled as well. To some people, made in the US is a big deal. They insist on only domestic products. But in the world we live in finding what we want is getting harder. You can be confidant our USA made wedding favors and other decorative arts are produced right here in the US. The clay we use is produced domestically and the wood we use for our wooden bird feeders and houses comes from a local saw mill. One thing you can count on, our USA made wedding favors and decorative arts are hand crafted in our studio. Sincerely,
Phyllis and Tom