The aroma therapy wedding favor ornaments start with the best white earthenware or terra cotta clay. Each shape is painstakingly cut by hand, one at a time. After air drying, we hand finish the favors to smooth any rough edges, apply any decoration, then fire them in a kiln. Each favor comes to you hand packed in a gift box complete with a vial of aroma oil, personalized gift card and hanging ribbon.
While the ornaments can be used as aroma therapy diffusers we ship them unscented, as some recipients may be sensitive to fragrances.
Please read below for more details.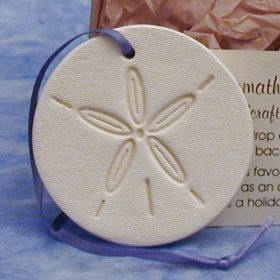 Sand dollar Favors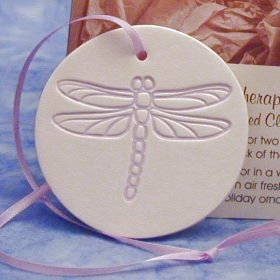 Dragonfly Favors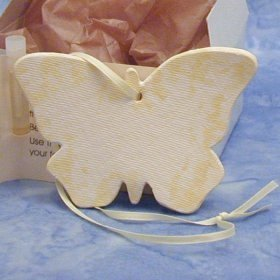 Butterfly Favors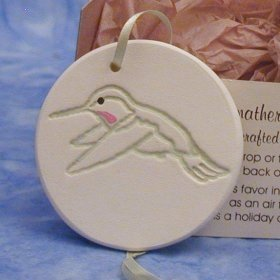 Hummingbird Favors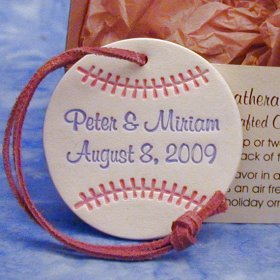 Baseball Favors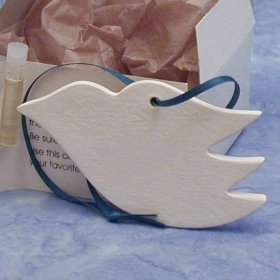 Dove Favors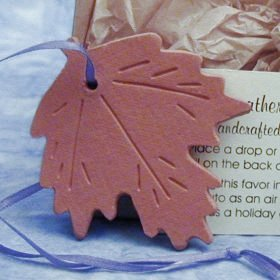 Fall leaf Favors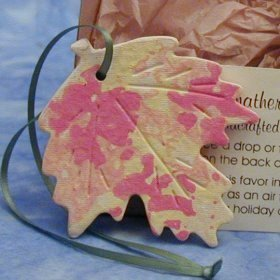 Autumn leaf Favors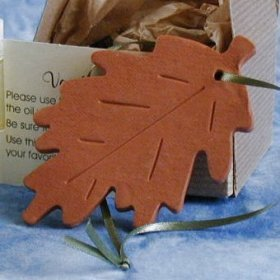 Oak leaf Favors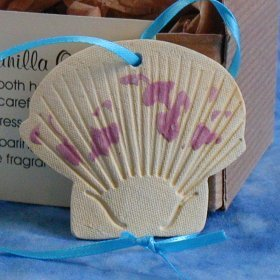 Seashell Favors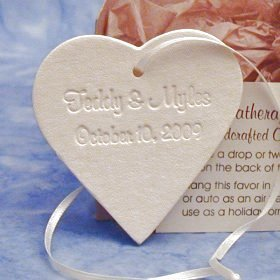 Heart Favors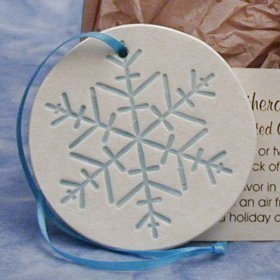 Snowflake Favor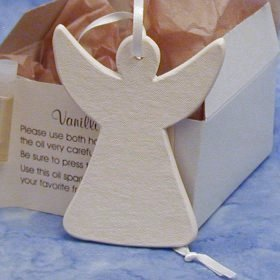 Angel Favor
Moon & Star Favor
Unlike fragile glass ornaments, our fired clay ornaments are very strong. They will not break into sharp pieces of glass. As a plus they can be used as an aroma oil air diffuser. We include a vial of scented oil with each favor.
Our aroma therapy wedding favor ornaments are made to order. We produce them in our studio in Northern New York State.
We began making the ornament wedding favors to go with the wind chimes. While the chimes are very nice, as favors they cost more. We feel a lower priced ornament favor helps our customers save money on high quality hand crafted favors.
The favors are both ornaments and Aroma Therapy air fresheners. We fire them in a kiln so they are very strong but still porous enough to hold the oil.
Some of the ornament favors may be colored and we mix the stains from raw materials in our shop. Ornaments are colored by hand using methods we have learned over the years.
Customers can choose the hanging ribbon color. Pick from more than 20 colors of 1/8" double face satin ribbon. The baseball ornaments have a rawhide hanger instead of ribbon.
We use the best scented oils we can buy. We hand fill the 1/6 dram vials by hand we make sure they are good!
Each oil vial is attached to a gift card with the couples names and date. The card also shows how to put the oil on the ornament. We do NOT apply the scent oil to the favors before shipping. Some guests may be sensitive to scents or they may have an oil of their own.
Each aromatherapy wedding favor ornament is carefully hand packaged in gift boxes. We use tissue paper to keep them safe in shipping at no extra cost.
Order a sample favor today!