This is the personalized card and aroma fragrance oil vial which we include FREE with each of the aroma therapy favors. The card is laser printed, not inkjet, on heavy 110 lb card stock. The glass vials contain about 1/5 dram of your choice, vanilla, lavender or coconut Aromatherapy fragrance oil.
The front of the card is personalized with the names of the bride and groom and the wedding date. If you like we can print another message. On the back of the card in very small letters: This favor is hand crafted by...
Five Cedars
po box 123
theresa ny 13691
877.829.6615
www.theweddingdept.com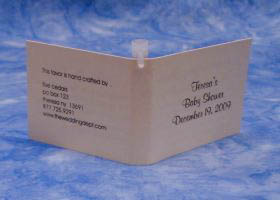 The inside left of the card reads: Aromatherapy Favor, Handcrafted Clay Bisque Place a drop or two of aroma oil on the back of the favor. Hang this favor in a window, or auto as an air freshener, or us as a holiday ornament. The inside right of the card reads: Vanilla (or your choice) Oil Please use both hands and open the oil very carefully using a twist. Be sure to press the cap on tight. Use this oil sparingly or substitute your favorite fragrance.