Fall & Autumn Theme Wedding Favors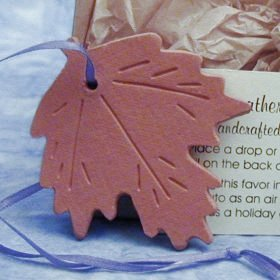 Fall leaf Favors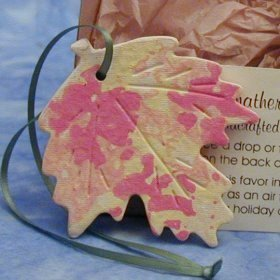 Autumn leaf Favors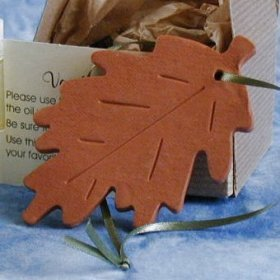 Fall Oak leaf Favors
We Specialize in Fall and Autumn Theme Wedding Favors.
When we first started making Fall Theme Wedding Favors we were surprised at how many brides planned for this time of year. What ever the reason we find our fall favors in high demand and that tells us fall weddings are in favor! At this time we have a number of fall theme wedding favors, all handcrafted in our studio. Please take a few minutes and peruse our offerings, and if we can be of help feel free to call. * Here's a fall wedding tip: Carry your fall theme into your invitation designs by using maple leaf or any other nature related rubber stamps to decorate the envelopes.

Please take a few minutes to view our fall favor video.
In it we review the favors and go over some ways to use them in your fall theme.
Materials used in this video are available at most major crafts, fabric and department stores.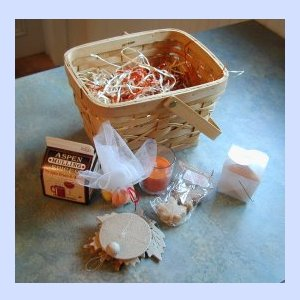 Here is a list of items we used in our fall favor gift basket.
Choose from this list or add your own choices for one of a kind creations.
1. Woven basket
2. Shaved wood filler
3. Cider mulling spices
4. Autumn scented candle
5. Fall colored Jordan Almonds in tulle
6. Leaf shaped maple sugar candies
7. Leaf shaped maple flavored Cookies
8. Fall Leaf Wind Chimes or ornament
Other ideas not shown:
Maple flavored fudge
Collection of fall theme cookies

More Fall and Autumn Wedding Tips
Try booking your autumn event in the spring. Owners will be eager to book events in the spring, for autumn as they want to get the ball rolling and usually welcome an early deposit. Autumn and fall can be good time to book an event in an area that caters to primarily summer customers.
Depending on the location the weather can be temperate and the resorts will be less crowded. Many facilities will be happy for the end of season business and the prices may be lower.